Blackjack Switch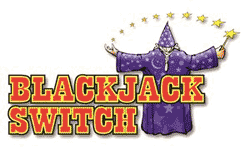 Blackjack Variations > Blackjack Switch
Official Website:  BlackjackSwitch.com
Here is where we add an interesting twist to standard Blackjack, which is not yet that popular either offline or online. Actually, you might have come quite close to it at offline casinos. Have you ever had a time when you are saving a seat to a friend, or no one else is sitting next to you so you make use of that blackjack spot? If you have, then you are getting close to the essence of Blackjack Switch.
Play our free blackjack switch game.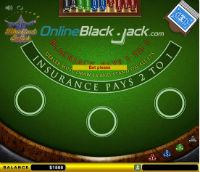 Blackjack Switch Rules
You will be essentially playing the same standard blackjack game. Same point value, same goal, and same terminology, with just a few extras into it:
First off, players must play 2 hands instead of just one. Meaning a total of 4 cards dealt per player, but separated into 2 hands.
Players must bet twice, for each hand.
Players can only split once per hand, and after splitting an Ace, you will only get one card per hand. You can double down after a split, and you are actually allowed to double down on any hand/card.
Dealers usually have to hit on 17 or lower, but if he/she gets 22, it is considered a push, unless the player gets blackjack in which case, the player gets paid 1:1.
Players can buy insurance only if the dealer's face-up card is an Ace.
And now here are the two most interesting extras:
You are allowed to switch the second card of each hand in order to make a stronger hand – and lastly, you can make an extra bet, called "Super Match", in which you win by getting same ranking cards within the total 4 at your possession: a pair pays 1:1, a three of a kind pays 5:1, two pairs pay 8:1, and four of a kind pay 40:1
The house advantage goes up when you play the "Super Match" bet. So players looking to play for as long as possible should avoid it. Though, if you are looking for added excitement and are looking for a big score this is the bet for you.
How To Play Blackjack Switch
As you can see, all you have to do is follow your blackjack expertise most of the time. Make the normal bet and Super Match bet if desired, then get your cards dealt, while the dealer gets his/her 2 cards too (one face up and one face down).
Review the possibilities for a switch between your second dealt cards for each hand, and either split, double down, hit, or stand…
Lastly, the dealer will do the same with his/her cards, with a possibility of going up to 22.
Blackjack Switch Hand Examples
Considering the above, if you were to get 5-3 and a 7-6, then the best move is to switch your second dealt cards in order to get a 5-6 and a 7-3 for an 11 point starting hand and a 10 point starting hand – both of which are great to either double down or hit for the blackjack.
You can also make a Super Match bet initially before the cards are dealt, and if you get a 5-2 and a 5-3, then you get paid on a pair, for a 5-3 and a 5-5 you get paid for a three of a kind, 6-4 and 6-4 you get paid on a two pair, and lastly a 4-4 and 4-4 you get paid on a four of a kind. These are just examples of possible outcomes, and extra bets to the rest of the hand game.
The last point to remember; if the dealer gets a 22, it is an automatic push unless you get a blackjack, in which case you get paid out, but not the standard 3:2; instead, you get paid out 1:1.
With a good idea of the rules now, try out this blackjack game with a twist on the side…
Popular Casinos that Offer Blackjack Switch
Las Vegas – Harrahs, Casino Royale, Binion's
Nevada State Line – Montbleu, Harvey's, Lake Tahoe Horizon
California – Red Hawk Casino (Placerville), Twin Pine Casino (Middletown)
Canada – Fallsvue, Niagra & Great Blue Heron
Blackjack Switch can also be found at selected casinos in the following states: Indiana, Missouri & Michigan
External Links
Related News