Blackjack Player's Job Description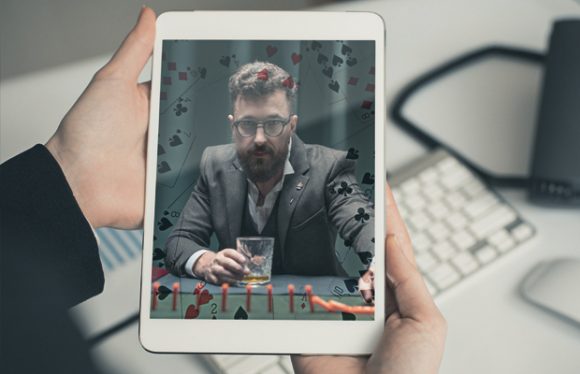 Position Title: Professional Blackjack Player
Job Summary:
This self-supervised position involves consistently successful play of the casino game known as "21," or "blackjack." While much of the position can be done remotely, a significant amount of the required duties should be performed on location, at brick-and-mortar casinos in brick-and-mortar casinos in Las Vegas and elsewhere. As such, some travel, including international, will also be called for.
Responsibilities Include:
Playing blackjack in a casino setting, either online or on-location.
Utilizing card counting as well as other advantage play techniques to ensure long-term success against the house.
Developing an "act" in order to conceal the true extent of your skill level from the house. (Note: while the position is entirely legal, it is not in the casino's best interest to welcome advantage players to their tables with open arms.)
Analyzing the advantages and disadvantages of the various blackjack games offered, both within a single establishment and among the many casinos offering the game.
Encorporating the forementioned analyses into overall play strategy, ie. choosing where to play, how often, and at which tables.
Computing the betting patterns most appropriate to each casino, the specific game, and bankroll size, as well as other factors.
Observing casino personnel, especially dealers and pit bosses, to determine the relative risk of expulsion relative to winning potential (also known as heat).
Keeping detailed records of play, game conditions, personnel, individual dealers, and bankroll changes on an hourly basis.
Skills and Knowledge Required:
The candidate must have total command of basic blackjack strategy, as well as an understanding of the variations from one game to another, strategic and tactical shifts depending on rules and number of decks in play. These changes must be able to be implemented without a moment's hesitation, and without alerting dealers and pit bosses.
Mastery of at least one counting system, such that a full deck can be counted down in 25 seconds or less.
Comfort with core principles of mathematics, with an emphasis on standard deviation, variance, and risk.
The ability to retain one's cool in the face of high stakes wagers, big bankroll swings, and the real risk of significant financial loss.
Fluency with the concept of bet sizing, and the various bet spreads appropriate to various blackjack scenarios.
Qualifications and Requirements:
Though no formal education is required, comfort with basic mathematics and the relevant literature is an absolute must.
A self-financed playing bankroll, large enough to allow the candidate to earn at a sustainable rate while running a risk of ruin less than 1%. This bankroll must be kept separate from living expenses, though it can and should be built over time?
A cool head is required, so proper strategy is attended to during inevitable losing streaks.
Tactical flexibility according to changing playing conditions.
The ability to spend long hours in a seated position, while enduring rude players, mediocre dealers, overzealous casino personnel, over-served patrons, and occasional cigarette smoke without compromising an overall positive, focused attitude.
Must have read and mastered several books, including Edward O. Thorp's Beat the Dealer, Don Schlesinger's Blackjack Attack, and Stanford Wong's Professional Blackjack, Peter Griffin's Theory of Blackjack.
Shuffle tracking and/or hole-carding abilities, though not required, are a big plus.
Supervision and Teamwork:
The position is entirely self-supervised. Candidate will be responsible for bankroll management, determining the length of gaming sessions, record keeping and reviewing.
Though largely a solitary position, some people skills are essential. Candidate must be able to get along well with other players, dealers, and floor personnel. Furthermore, the ability to detect subtle signs of heat from casino staff is extremely advantageous, for example, when one is in danger of being backed-off or barred from a given establishment.
Compensation:
The position is neither salaried nor paid at a fixed hourly wage. Rather, compensation is determined entirely by the candidate's own wins and losses. Therefore, some tolerance for uneven payment conditions is crucial. Nevertheless, skilled candidates can expect to earn an average pre-tax rate of approximately 1% of their total wagers per hour.
This means that an average hourly win rate depends a great deal on the stakes at which a player is able to play. For medium high-rollers, able to bet $25-$250 per hand, this can come to $100 per hour, while a lower level bankroll wagering $5-$50 per hand can expect to earn a rate closer to $20 per hour.
No health benefits, retirement programs, or vacation days are required.
High level players can expect to see some other kinds of perks, however, in the form of tournament invitations, comped hotel suites, travel, gourmet meals, and more.