Live Dealer Online Blackjack
Online blackjack is a great product, as it allows you to avoid the crowded tables and smoky environment that you find at a land casino, while also featuring the ability to play as many hands at once as you like and more flexible wagering options. Unfortunately, some of the experience is lost in the cyber world, as you have no interaction with a dealer and the game moves a lot faster. Thankfully, online betting sites have overcome these issues with the introduction of live dealer blackjack.
Introduced several years ago, live games have grown in popularity as computers and internet speeds have improved. Live dealer blackjack games allow you to sit in at tables that are broadcast from studios throughout the world while also participating in the games directly. This manages to mix the best of both worlds when it comes to land and online gaming. You can read more about Video vs Live Dealer Online Blackjack here.
The Basics
Live dealer blackjack sees you selecting the style of game you want to play, with tables generally segregated by wagering limits. Once you are seated at a table, a video screen will load, which will see you facing a real-life dealer and table, which is broadcast either from a studio or a land casino location elsewhere throughout the world.
After the game loads up, you select your wager, which is represented in much the same way you'd see in a standard online game. Once all the wagers are set the dealer will say "No more bets", and then begin to play out the hand.
When the dealer begins to play out the hand, he or she will slide cards out from the shoe, sliding them over a scanner and then putting them into the field of play. As these cards are scanned they will also be broadcast onto your screen, giving a double representation of the cards you, the other players, and the dealer are dealt.
After the cards have been dealt, players will take turns to play out their hands. Players will have a series of options placed in front of them, including hit, stand, double down, split, and sometimes surrender. When you select how you want to play your hand, the dealer plays out the hand, paying your winnings or subtracting your losses instantly. This is immediately reflected on your account balance, and the process starts over again just as it would in a real casino.
The Benefits of Live Dealer Blackjack
While live play and online play both have their own individual strengths, live dealer blackjack manages to take a hold of the advantages of both, giving what we consider to be one of the most complete and ideal blackjack experiences available.
Some of the advantages in live dealer games are:
You get to play from the comfort of your own home, avoiding the smoky interiors of casinos for the comfort of your favorite chair… plus you don't have to even wear pants to play!
You don't have to deal with other players. I HATE dealing with know-it-alls at the casino who criticize you for splitting 8s or doubling down when they think it cost them a good card, and when I play live dealer I never have to deal with this.
The dealers. The dealers in live dealer games have the same great attitudes that you often find at a land casino, and you are able to interact with them via a chat function. If there's ever a time you don't like a dealer, you can simply close the window and move to a different table or wait for a dealer shift, which happens very frequently online.
Minimum bets and multiple spots. Many of the tables at a land casino nowadays have minimum bets of $25 a hand, but online you can find tables that take bets as low as $5 and still maintain a healthy 3:2 payout on blackjack, versus the 6:5 that you see all too often at land casinos these days.
Best Live Dealer Blackjack Software
As with everything online gaming, not everything is created equal when it comes to the various live dealer software being provided by casinos. Some providers have high-quality studios and cameras, and some are low-class joints that sound like they have toilets flushing in the background. These are a few of the software groups we feel put out the best live dealer blackjack software.
Net Entertainment – Net Ent's live dealer casino product features high definition video cameras, multiple language support, and a product called "Common Blackjack", which allows for up to 100 players to participate at any time. There are some excellent casinos offering Net Ent live dealer services, and we recommend checking out spots like Mr Green, Unibet, and Guts to play these live blackjack games.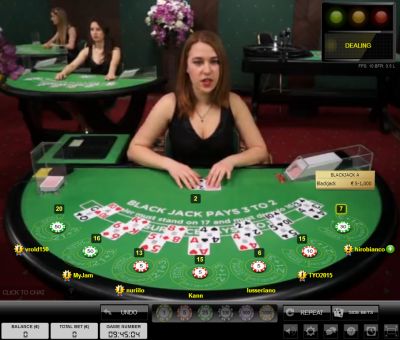 Microgaming – Based on the Isle of Man, Microgaming is the oldest online gaming company around, and they have gone through great measures to create one of the most diverse and high-quality live dealer platforms in existence. The company's live blackjack games also feature high definition cameras, multi-language support, and statistical analysis that is available for each hand. The company has also inked an agreement with Playboy, which gives players the chance to mingle with gorgeous dealers wearing the iconic bunny suit. If you're looking to play live dealer Microgaming blackjack, you can do so at 32Red, Royal Vegas, and Roxy Palace.
Evolution Gaming – While Net Ent and Microgaming built their names with traditional online casino games, Evolution Gaming has expanded their brand by almost solely focusing on the live dealer element. The result of this is a polished gaming platform that has a full set of table games including blackjack, baccarat, roulette, Casino Hold'em, Three Card Poker, and Caribbean Stud. The blackjack side of things sees players able to play standard versions of the game alongside tables with Perfect Pairs, 21+3, and other sidebets. There are also variants that throw a few wrenches in the rulebooks in an effort to keep things fresh. Some of the big name casinos offering Evolution's live dealer games include bwin, RedBet, Unibet, and LeoVegas.
Playtech– Playtech's live dealer software is much like Microgaming and Net Ent's as it featured HD cameras that produce high-quality games The blackjack tables are some of Playtech's most popular, as they provide games for desktop and mobile devices, Bet365 is a great example. The games support play in the UK, Spain, and Italy, and can also be played via television systems.
Ezugi – Probably the smallest corporation on this shortlist, Ezugi's quality isn't as high as the other three, but it does manage to offer innovative live blackjack from the comfort of your own home. Mini-games, multi-tables, and social integration all help to make Ezugi's games stand out as being worth your time.
Not sure how live dealer blackjack tables differ? Take a look at these bullet points for a very logical way to think about the selection of a solid live online casino.
Recommended Live Dealer Online Casinos
Casino
Benefits
Bonus
Play
Mobile Live Dealer Blackjack
About ten years ago people would have scoffed at you for suggesting that you could play live dealer blackjack on your phone, but today that is a possibility and stands to be one of the fastest growing sectors for live games moving forward. Those looking to play games on their mobile devices will find that the games are specifically tailored for the small screen, with action buttons being found on the sides and the dealer being front and center, often times feeling more like you're zoomed in on the action than you would be from your desktop computer.
While playing on your smartphone is nice, I have to say that my preferred way to play live dealer blackjack is on my iPad, as it gives you a larger screen to see what is going on and the product just seems easier for me to navigate. To me, nothing is better than being able to lounge on my hammock outside and still be able to pick up high definition quality dealers through my home's Wi-Fi. Make sure to try both mobile versions to see which one fits your style best.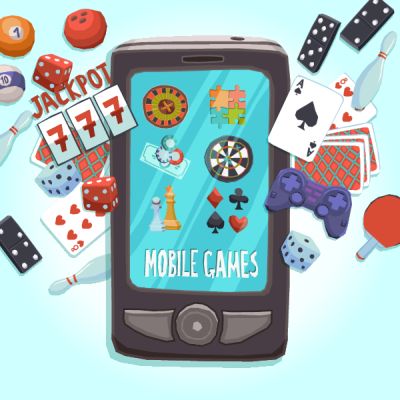 The Future of Live Dealer Blackjack
Online gaming has transformed and matured itself over the past 15 years, and moving forward it is going to be interesting to see how live dealer blackjack evolves to stay competitive. We are already starting to see the seeds planted for virtual reality live dealer games, which will allow you to play with a headset. This style of game would make everything in the studio or casino appear as if it were really in front of you, allowing you to look around in 360 degrees, all with stereoscopic 3D coming right at you.
Of course, we can also expect to see additional game variations being introduced, and it is likely that we will see more tie-ins (i.e. Microgaming and Playboy), which will change things up in terms of the presentation and features of set games.
Summary
Live dealer blackjack is one of the bold new ways that online casinos are trying to bring a land betting experience right into your home. The experience has a lot of advantages over more traditional forms of blackjack, and you can find excellent tables with 3:2 payouts on blackjack with lower minimum bets than you would see at your brick and mortar casino.
There are definitely some spots better to play at than others, and some software is definitely superior in terms of offering better quality feeds and more variations of blackjack. Moving forward, the future of live dealer games is bright and we are excited to see what developers can come up with in the coming years.

Related News