Is Blackjack Streaming the Next Big Thing?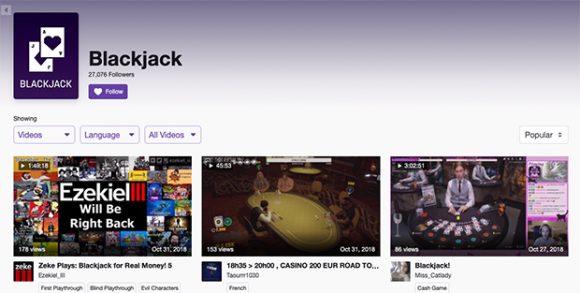 Over the past few years, eSports and streaming services such as Twitch have become extremely popular among the younger generations. Players like Ninja and Doctor Disrespect stream games to thousands of people daily, while teams compete in tournaments for millions of dollars in prizes while millions watch. Now, tons of viewers are flocking to casino gambling streams, with blackjack quickly becoming a popular game to watch.
Many streamers are broadcasting their casino gameplay to Twitch, allowing viewers to watch the action live. Many of the most popular blackjack streams involve live dealer games, where punters can interact with a real dealer from a studio. Standard online blackjack games are also popular, although they lack some of the punch of the live dealer games.
These streams are gaining popularity, as viewers revel in joy when players win, and they feel the pain when a bad hand comes out. The streamers themselves stand to make out like bandits, as viewers can donate funds, subscribe to the channels, and gain ad revenue. Needless to say, this all contributes to the streamer's bottom line and can fund some of their casino experiences.
It remains to be seen if Twitch blackjack streaming will take off as much as online poker, but seeing as how some punters are watching something mundane like slot machines, there may be a bright future for the game going forward.

Related News
Next Article: Casumo Live Dealer Games Proving Popular
Previous article: Players Can Play Blackjack in Red Dead Redemption 2