A Guide to Online Blackjack Real Money Gambling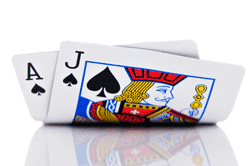 When it comes to online gambling, the most popular table game is blackjack. This echoes the sentiments of most Western gamblers, who visit land casinos to play the game in droves (many Asian gamblers prefer Baccarat, but that is another article for another website). Even though the game is as popular as it's ever been, the topic of playing online blackjack for real money is something that is foreign to a lot of punters, and I am writing this topic today to help educate you on how you can do this from your own computer or mobile device.
Editor's Picks for Best Online Blackjack in 2023
Casino
Benefits
Bonus
Play
The Basics
Online blackjack can be played at virtually any online casino you visit. The game is insanely popular for it's easy to learn nature, but difficult to master as the game runs deep. Blackjack is one of the few casino games that allows users to use a strategy, as you can maximize your odds of success by utilizing a set strategy. Of course, there is an element of luck present in blackjack, but using strategy, when combined with the low house edge built into the games can see players walking away as a winner.
For those new to blackjack, the goal of the game is to get a 21 or land as close as you can without going over (busting). The value of cards corresponds to the number on the card, while face cards serve as a 10 in terms of value, with an Ace being either a 1 or 11. Players are dealt two cards, and the dealer gets one card that is shown to players. The game then begins and players can add another card (hit), stay where they're at (stand), double their bet (double down), or split identical cards into two hands (split). After your hand is complete, the dealer will deal out cards to himself, usually hitting to at least 17. When the hands are complete they are compared, and the player with the better result wins.
Taking the Game Online
These basics also apply to online versions of the game, with a few key exceptions. Usually, you're not playing with any other real players, and the dealer is an automated system that dishes out cards in a random order. There is also no set shoe of cards, as every single card is digitally shuffled after each hand, which stands in contrast to real games where several hands can be played before cards are shuffled.
The online game is also much faster, which can be both a good or bad thing depending on your outlook, as players with good strategy can dish out multiple hands per minute. Newer players may want to take things slower though, as they may be prone to making mistakes in strategy, which could cost you money very quickly.
Where to Play
Online blackjack real money gambling is something that is done through an internet casino. If you Google search "internet casino", you'll find hundreds of casinos that offer the game to you. So, you're able to just click on any of those sites and start playing, right? Wrong.
Picking the right online casino is as important as sound blackjack strategy. For every good casino out there, there's one that's subpar and slower to pay than other. Even worse, there's a healthy number of sites out there that are downright scams or are unsafe to play at, given the lack of encryption technology present to protect players.
Because of this, it's vital that you select a good online casino should you decide to play blackjack online. We have a few casinos that we highly recommend, as they offer fair terms to players, have good rules on their games, pay quickly, and have lucrative bonus terms. If you want to check out these casinos, you can do so here.
Live Dealer
Most online blackjack games are completely digital versions that have you playing against a computer, but there are a number of new styles of games available, which are called live dealer blackjack. In live dealer blackjack, players are able to participate with real life dealers, which are broadcast using webcams. The games also have real cards and tables, and the dealer scans each card as it comes out of the shoe, which in turn are then digitally brought to your screen. Much like a normal game, you can make all of the same decisions, which the real dealer then plays out for you.
Live dealer games do a great job of making you feel like you're really a part of the action, and it is a lot of fun to actually interact with the dealer and other players. If there is a downside to this style of game, it is often that there are higher minimum bets than normal online blackjack games, which can price out some low rollers.
Depositing and Withdrawing
When you have registered an account with an internet casino, the next thing you want to do is to deposit funds to your account. This is usually done through a dedicated section of the casino software, which is secure and enables you to move funds from a bank account, credit card account, or eWallet to the casino itself. This process is very fast, and is usually completed in a few seconds. In order to protect your identity and financial data, casinos generally encrypt data as it's sent between your computer and the casino's servers, so that it cannot be read by anyone else.
Withdrawing funds is a process that generally takes a bit longer for players, as the casino usually has terms and policies in place that make them wait a bit to pay you. While some sites pay within a few minutes, some can delay your online blackjack winnings for up to 48 hours. If it's your first time withdrawing money from an online casino, you may be asked to provide a copy of your credit card and a form of identification. This is not abnormal, as many casinos are required to collect this to prevent money laundering. If you do have to send these pieces of identification, it is recommended that you black out a section of the card numbers (not all of them), as well as a piece of your ID number in order to prevent any possible fraud from outside parties.
When withdrawing money from a casino, the fastest method is generally through Bitcoin, which can be transferred instantly. This is followed by eWallets, which can be paid out in under a day, while credit cards, bank transfers, and paper checks can take up to a week or more.
Other Tips
Blackjack is both a game of luck and skill, so you want to make sure that you do everything you can in order to boost your odds. Make sure to play with a blackjack strategy sheet in front of you to make sure you are making the correct choices in order to cut down on the house edge.
Also, remember that the cards online are shuffled after every hand (except for live dealer games). This means that it's impossible to count cards with a fully electronic game, and players need to simply stick to their strategy.
The speed of the game is also very fast online, which can make it easy to blow through hands a lot faster than you would at a land casino. If you feel like the speed of the game is too fast, by all means take a break. There is nothing forcing you to play at a wicked pace, and you would be doing yourself a favor to just slow down or do something else for a bit.
Conclusion
Online blackjack is a fun and popular way to get in on casino action without ever leaving your house. You can play via desktop and mobile devices, and there are some excellent online casinos that offer great versions of the game. If you decide to play online, it is very important that you choose a good casino, stick to a strategy, and control the speed of the game in order to maximize your chances to walk away with some extra chips in your pocket.

Related News