Atlantic City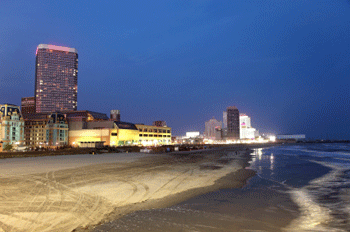 Located on the Jersey Shore in southern New Jersey, Atlantic City is the biggest gambling destination on the East Coast of the United States of America. Beyond being home to a number of major casinos, Atlantic City is also known for its signature boardwalk. In fact, many visitors soon realize that they're familiar with many of the major roads and destinations in the city, as Atlantic City was the inspiration for the popular board game Monopoly.
Atlantic City was founded in 1854, and in the same year, train service was established from Philadelphia to the shoreline location. It quickly became a popular vacation destination and resort town. In 1870, construction began on the boardwalk, which quickly became the signature landmark for the city.
At one point, the Atlantic City boardwalk reached a length of about 7 miles, as it stretched from Atlantic City to the nearby city of Longport. However, the boardwalk was severely damaged in the 1944 Great Atlantic Hurricane, and today measures about 5.75 miles. This still makes it the world's longest boardwalk, and it remains a popular tourist attraction.
In the second half of the 20th century, Atlantic City suffered a severe decline. The number of tourists visiting the city dropped significantly, forcing the closure of many of the city's large hotels. By the 1970s, it became apparent that the city would need a new attraction if it wished to survive as a resort city.
In 1976, New Jersey voters approved a plan to allow casino gambling in Atlantic City. This allowed the city to become the first casino destination in the eastern United States. Today, there are a total of 11 casinos in Atlantic City. While casinos in nearby states have sapped some of Atlantic City's business, it still clearly deserves the title of "Gambling Capital of the East Coast."
Related News