Blackjack Table
One of the most overlooked parts in a blackjack game is the table itself. Though it doesn't have the extensive and complex layout that a craps or roulette table features, a blackjack table can tell you a lot about the game being played there, and help you avoid making mistakes during play.
Parts of a Blackjack Table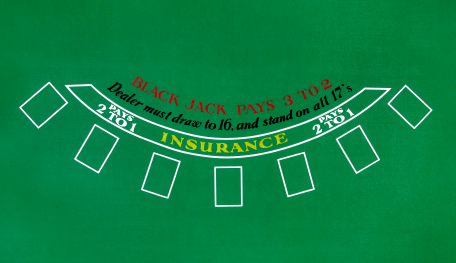 A blackjack table is usually set up in a semi-circle shape. The dealer sits behind the flat side of the table (the back), while players sit around the curved side (the front). At most blackjack tables, there will be a chip rack right in front of the dealer, from which the dealer can both collect bets and pay out winnings.
On one side of the dealer – usually to his left – is the shoe, from which the dealer will deal cards. On the opposite side is the discard pile, where cards go after each hand is completed.
Of course, the player will rarely deal with any of those parts of the blackjack table. In fact, in most casinos, you'd be very well advised not to go anywhere near the shoe or the chip rack!
On the other hand, there are many parts of the table that are of interest to the player, both when they sit down and during play. When you first sit down, look at the printed information at the center of the table, as this will usually tell you everything you need to know about the rules for that particular blackjack game. In particular, you should see lines that tell you the following:
The rules for the dealer. Does the dealer stand on all 17s, or will he hit on a soft 17?
The payment for a blackjack. Does the table pay the standard 3-2 for a blackjack, or the lower paying 6-5 odds?
The payment for insurance. This one is pretty standard, however; virtually all tables should pay 2-1 on insurance bets.
Any other rules, such as those for side bets, will be printed somewhere on the table. There's usually also a sign at the back of the table that will make you aware of the minimum and maximum bets allowed.
Each seat at the blackjack table will also have a circular shaped "bet box" in front of it, which is where the player should place their bets. There may also be another smaller circle near each bet box; this will usually be for a side bet that's available at that table.
Custom Blackjack Tables
If you're looking for a way to host a blackjack night at your home or for a party or event, blackjack tables are available for purchase from hundreds of dealers online. What you can purchase varies from a felt mat that can be placed on top of a regular table, to fully outfitted blackjack tables that range from small, inexpensive designs to large casino-quality custom blackjack tables that can be quite costly. For a small table top, the cost is likely to be under $50, while the cost of a small table might be between $150 and $200. A full sized, high-quality blackjack table can easily cost $1,000 or more.
The more adventurous among our readers can also build their own blackjack tables! There are many custom blackjack table designs available online, most of which are made from easily obtainable materials like wood and vinyl. Of course, it takes some work to build your own blackjack table, but it will likely save you a lot of money over purchasing a similar one – and you'll truly be able to say that it is your blackjack table!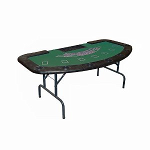 Where to buy a Blackjack Table
Amazon.com – Amazon has a range of blackjack tables including felt versions that start at 13.99. They also offer blackjack tables with folding blackjack legs for 150 dollars.
Local Stores – Local game stores usually carry a felt blackjack table and some carry full-size tables. If you are looking for just a felt version then another great place to look is Target and Walmart.

Related News