Online Blackjack Updates Las Vegas Blackjack Survey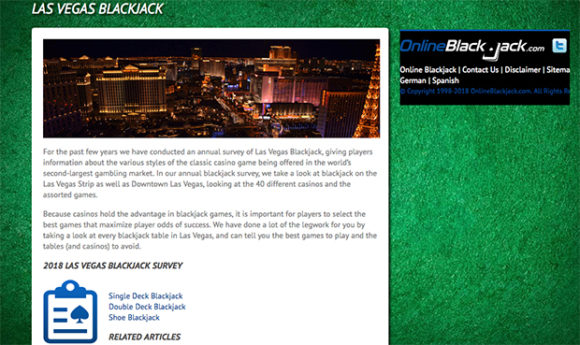 Online Blackjack is proud to reveal that we've updated our Annual Blackjack Survey for Las Vegas, providing a comprehensive look at the various changes to the popular card game throughout Sin City.
The new survey shows updated blackjack table stats for Single Deck, Double Deck, and Shoe Blackjack games. The OBJ team took to the casinos, analyzing the different tables and putting a database together that breaks down games by casino, house edge, decks, cut, minimum bet, maximum bet, Blackjack payout (3:2, 6:5), and various rules.
Online Blackjack has provided an annual blackjack survey for the past several years, becoming one of the premier sites on the internet to provide the information. For years, the site has seen tables with 3:2 blackjack payouts and small minimum bets going the way of the Dodo, and that trend is continuing in 2018, with more and more casinos moving over to 6:5 payouts. 3:2 single deck blackjack is getting especially rare, with only three casinos offering the payouts with reasonable bets within Sin City. Those casinos include El Cortez, Four Queens, and Silverton, which have minimum bets of $5, $10, and $5, respectively.
It should be noted that Online Blackjack doesn't count continuous shuffle or 6:5 payouts, as the site considers them to be "carnival games", and not true blackjack. Players are urged to avoid these games, as the lower blackjack payout raises the house edge, making it unfriendly for players.
Commenting on the survey OnlineBlackjack.com news editor Dustin Jermalowicz said, "The team at Online Blackjack works hard every year to provide a valuable resource for players. It's getting harder and harder to find 3:2 blackjack with reasonable minimum bets, so a survey like this is something essential in maintaining a bit of an edge on the casinos."
"We hope that readers take this knowledge and use it to their advantage to find the best places in Las Vegas to play blackjack."

Related News
Next Article: Wizard of Odds Analyzes Blackjack Sidebets
Previous article: Intertops and Juicy Stakes Showcase St. Patrick's Day Blackjack Special