Super Blackjack Battle II Turbo Edition Video Game Launches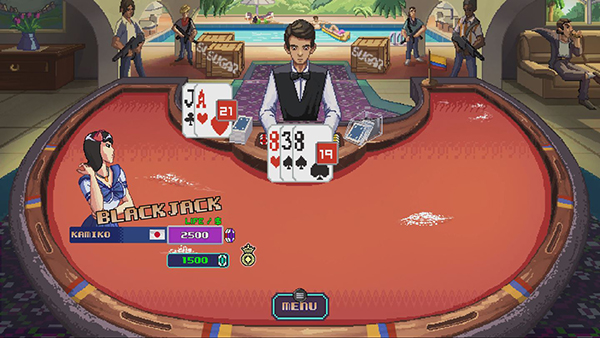 Yesterday video game developer Stage Clear Studios released their newest game "Super Blackjack Battle II Turbo Edition", which allows players to duke it out using blackjack hands, rather than fists.
The game is an odd looking choice for a blackjack game, heavily leaning on the classic Capcom fighting game Street Fighter II for their name and look. Indeed, the game has 16-bit style sprites as well as 12 characters from around the world, much like the fighting classic. Players will travel around to different blackjack parlors, where they'll work to beat the dealer and other players at the table. The game has four player local multiplayer, as well as different storylines for each character.
Super Blackjack Battle II Turbo Edition is developed by Spanish developer Stage Clear Studios, who have pushed out games on PlayStation, Xbox, Nintendo, and Steam platforms. This particular game is available on iOS, Android, Steam, and Xbox One platforms, and is currently available for $7.99 on the latter.
A video preview of the game can be seen below:
Thus far it looks like Super Blackjack Battle II Turbo Edition is garnering decent reviews, as the game holds a four-star average on the Xbox Marketplace, as well as a four and a half star rating on the Google Play Store.
The game is available now. If you play it, please let us know your thoughts in the comment section below.
Source: Stage Clear Games

Related News
Next Article: SoftGamings and SA Gaming Sign Content Deal
Previous article: Genesis Gaming Launches 'Zombie Blackjack'