Yggdrasil Launches Blackjack/Slots Hybrid Jackpot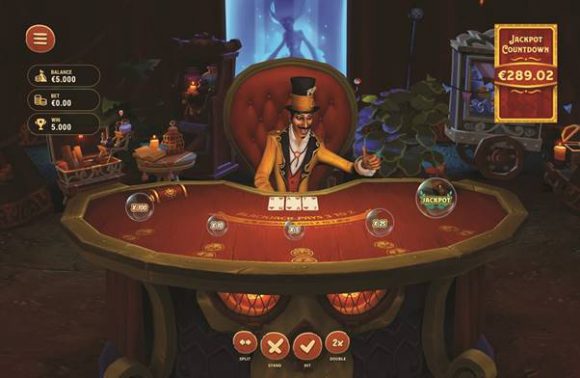 Casino game developer Yggdrasil Gaming has announced the launch of their newest jackpot 'Dr Fortuno', which includes a blackjack table or slot machine where punters can test their luck.
The jackpot allows punters to compete in either game and try to win the same jackpot. The slot is a 5 reel affair, where players try to match like symbols in order to score wins. The blackjack table has the same theme with an evil doctor. There are five spots at the table, and the game includes multiplayer. A side bet is included in the game, which provides access to the jackpot should the RNG deem you lucky enough.
Commenting on the launch Yggdrasil's Jonas Strandman said, "There is a lot going on in the Dr Fortuno Slot! Nudging wilds, a bonus wheel, free spins AND a jackpot! The bonus wheel happens often enough to keep spiking entertainment levels, while the free spins can dish out huge wins with the right combinations.
"The cross-vertical nature of the game presents our operators with a prime opportunity to introduce their players to new verticals, using a character and game mechanics that they are familiar with."
"If you ever hear Dr Fortuno, also known as the 'King of Yellow', whisper his catchphrase, "By the pricking one of my thumbs, something wicked this way comes!", roll up, roll up and join his troupe to make fortune smile upon his lucky patrons. You never know, if picked he could bestow you with riches beyond your wildest imagination."
Dr Fortuno has both desktop and mobile compatibility baked in, and it is available for play now at casinos that have an existing content agreement with Yggdrasil.
Next Article: Harrah's Valley River Bonus Spin Jackpot Goes Over $400,000
Previous article: Oaklawn Racing Casino and Resort Launches Blackjack