Shufflemaster Video Blackjack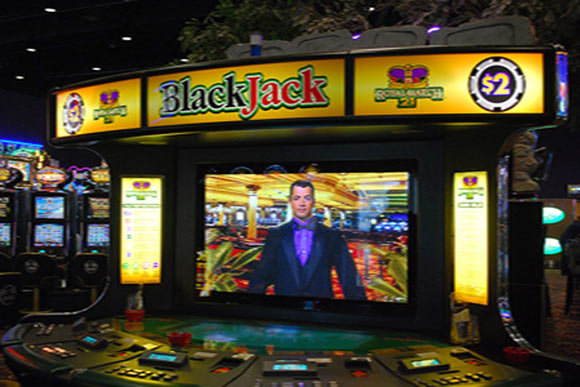 Shufflemaster is one of the most common video blackjack machines. It seats five players and has two monitors. One displays the dealer and its hand, while the other shows the cards. These machines have been slowly phased out in Las Vegas, but are still common in other markets.
The most distinguishing feature of Shufflemaster video blackjack machines is the dealers. There is a rotation of female dealers dressed in skimpy outfits including lingerie and swimsuits. The backdrop is either a beach or casino. Early versions of this game included two male dealers that disappeared in newer releases. This may be due to the fact that the female dealers are better at drawing male players.
Different Versions of SHFL Blackjack Machines
SHFL machines offer several variations. Casinos may choose between a six-deck or single deck game. The six-deck game reshuffles after two-thirds of the shoe has been dealt. The game does not disclose the reshuffle point so counting is impossible. The single deck version reshuffles after each hand. Some casinos set single deck games to a 6-5 payout on natural blackjacks.
All games offer double down on any two cards, double down after splitting, surrender and split once. The house may set whether the dealer hits or stays on a soft 17.
Side Bets
Some versions of Shufflemaster blackjack include side bets. The two most common are Bet the Set and Royal Match.
Other Games Played
Blackjack is not the only game available on these devices. There is software that spreads Ultimate Texas Hold'em, Let it Ride, Three Card Poker, Pai Gow Poker and Mississippi Stud Poker. Most of the machines still in service spread blackjack.

Next Article: John Daly: "I Lost Nearly $90 Million Playing Blackjack and Betting On Sports"
Previous article: Venetian and Palazzo Drop Payouts on Blackjack to 6-5