Venetian and Palazzo Drop Payouts on Blackjack to 6-5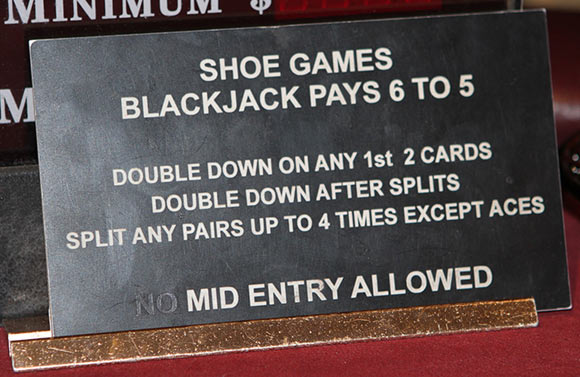 The Venetian and Palazzo changed its blackjack payouts on Monday. All games dealt out of a shoe, meaning more than two decks are used, now pay 6-5 on a natural blackjack. This change of policy covers the main casino floor. It does not affect blackjack in the high limit salon where the minimum bet is often $200.
Onlineblackjack.com visited Venetian and Palazzo Monday night to verify the story. We counted 29 blackjack tables at Palazzo that now have a placard disclosing that blackjack only pays 6-5. These games had a minimum bet of $10, $15 or $25, depending on the table. Venetian had 23 6-5 blackjack tables with this disclosure.
Lowering a blackjack payout from 3-2 to 6-5 adds 1.39 percent to the house advantage, according to Wizardofodds.com.
The only games on the casino floor that pay 3-2 on blackjack are double deck games and Free Bet Blackjack. We found one $25 minimum double deck game at Palazzo with the natural 3-2 payout. There were three additional $50 minimum double deck games at Palazzo outside of the main pit. Venetian spreads six double deck games with a minimum bet of 50 or $100, depending on the table.
Venetian and Palazzo have one option for low limit players that still want a 3-2 payout on blackjack. Each casino has a Dealers Angel machine with a $5 minimum. It offers surrender, double down after splitting and 3-2 on a blackjack. The dealer stays on all 17's.
Our visit proved that most players do not understand how devastating 6-5 blackjack is to a bankroll. The $25 double deck game had no players. A $25 minimum 6-5 shoe game located next to this table was full. The Dealers Angel machine is located next to a blackjack pit and had no players, while players filled $15 6-5 shoe tables nearby.
Blackjack players that prefer a live game will find one within a short walk of Venetian. Wynn offers a full-pay blackjack starting at $15. Encore often has these games with a $10 minimum. Treasure Island has $10 full-pay blackjack. Harrah's, Flamingo, Quad and Margaritaville all spread this game with a $15 minimum. Players just need to make sure that they are choosing a 3-2 table before finding a seat as there are many 6-5 games spread in these Caesars Entertainment properties.

Related News
Next Article: Shufflemaster Video Blackjack
Previous article: Is Video Blackjack Dead in Las Vegas?