Paddy Power Releases "Cash-Out Blackjack"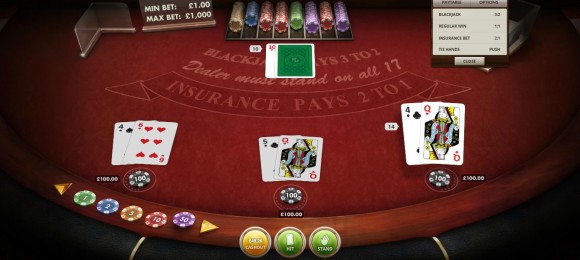 Irish retail and online betting firm Paddy Power has announced the release of a new online blackjack game for its web based casino, which it has dubbed "Cash-Out Blackjack".
The game is unique in that players are given the opportunity to end their hand before completion in return for a cash value (similar to the surrender rule). This can be advantageous to a player who has a weak hand as they can sometimes pull out of a hand that they have a smaller chance of winning. Conversely, odds shift with the strength of player hands, and a player with an 18 against a dealer 6 may offer the chance to finish ahead without watching the dealer pull out a heart wrenching three card 21.
The game is available within Paddy Power's card and table game section of the site, and requires no download to play.
Game rules for Cash-Out Blackjack are as follows:
5 decks
Dealer stands on soft 17
Blackjack pays 3 to 2
Insurance pays 2 to 1
Push pays 1 to 1
Splits and Double Down allowed
No re-splitting
Double Down after Split allowed
The payout rate is 99.39%
Related News
Next Article: Ben Affleck Admits to Card Counting
Previous article: Venetian, Palazzo Casinos Cut Blackjack Payout to 6/5