Las Vegas Workers Strike Deals With MGM, Caesars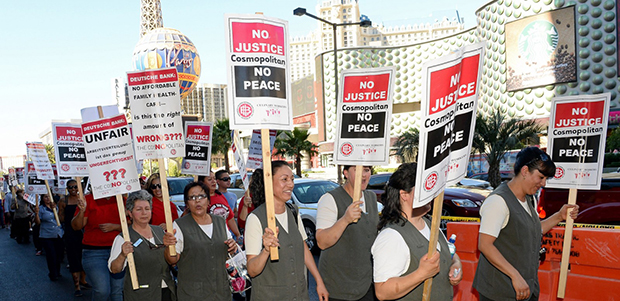 Last week workers at many Las Vegas casino resorts struck a deal with parent companies MGM Resorts International and Caesars Entertainment, keeping dozens of properties from facing a crippling strike.
The workers union announced the deals late into the night, as they negotiated for higher wages, protection from being made redundant by robots, and for panic buttons to keep cleaners safe from out of control guests. The strikes had threatened to close resorts like the MGM Grand, Caesars Palace, Mandalay Bay, Excalibur, Paris, and more. A strike would have thrown the industry into despair, potentially costing casinos $10 million a day in lost revenue.
The main impact of a strike would have been less visitation, creating fewer players at blackjack tables, slot machines, and more. Up to 50,000 workers could have gone on strike, closing upwards of 28 different properties.
MGM and Caesars are the two largest casino operators in Sin City, but smaller single property groups are still operating without a contract and could be facing a strike. Properties without a contract as of press time included: The D, Treasure Island, Stratosphere, Golden Nugget, Tropicana, and more. Those properties could face a strike, although no walkout seems imminent at this time.
Commenting on the agreement Culinary Workers Union Local 226 spokesperson Bethany Khan said, "The agreements with MGM and Caesars have historic language regarding immigration, technology and automation, and safety, from sexual harassment language to safety buttons We always have one standard for our contracts, and we are going to negotiate that one standard with other properties."
We'll be keeping up on this story and will update readers as we learn more.

Related News
Next Article: Michigan House Votes to Legalize Online Blackjack
Previous article: Yggdrasil Launches 'Sonya Blackjack' Game