Best Blackjack in Las Vegas, 2017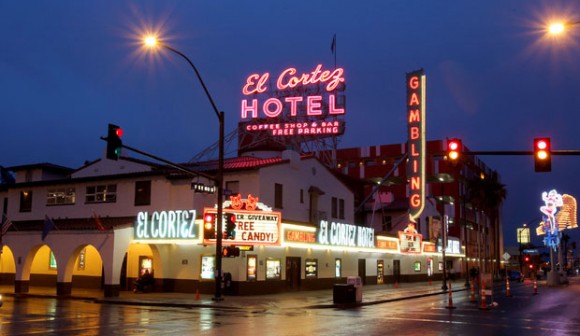 Many players feel that the Las Vegas blackjack conditions have deteriorated over the past few years. This is due to the proliferation of short paying 6-5 games. While there is some truth to this, there are still many playable blackjack games in Las Vegas, even on the Strip. Our man in Vegas John Mehaffey surveyed more than 40 casinos to identify the best blackjack games in Las Vegas for 2017.
Best Las Vegas Single Deck Blackjack
Most single deck blackjack games in Las Vegas pay 6-5 on a natural, with one exception. El Cortez spreads single deck blackjack that pays 3-2. It also allows players to double down on any two cards. This makes it the best blackjack game in all of Las Vegas. Even better news for the low rollers is that the game is spread with just a $5 minimum bet.
There is one issue with this game though and that is that El Cortez sweats its single deck tables. Players that are suspected of card counting are politely asked to leave. Players that get backed off are not typically banned. They may come back at a different time. We suggest not presenting a player's card, even if you do not intend to count.
Best Las Vegas Double Deck Blackjack
The best double deck blackjack game may be found at the M Resort. This $100 minimum game stays on all 17's. It allows double down after split and aces may be re-split. Several MGM properties on the Strip offer a game that is almost this great. MGM Grand, Aria, Bellagio, and Mirage offer a double deck where players may double after splitting and the dealer stays on all 17's. Aces may not be resplit. The game at Mirage has been known to be spread as low as $25 during the week. It starts at $50 at Aria and Bellagio, but often requires a $100 minimum bet. Treasure Island also offers this game with the same rules with a $50 minimum bet.
Pro tip for low rollers: Station Casinos offers a double deck game with double down after splitting and re-split aces. The dealer hits a soft 17 in these games. The minimum bet is just $5 at most of these tables. Locations with this game include Palace Station, Red Rock Resort, Green Valley Ranch, Santa Fe Station and Texas Station.
Best Las Vegas Shoe Blackjack
MGM properties offer the best shoe games in Las Vegas at tables that start at just $25. Players may double down after splitting, surrender and resplit aces at these select tables. The dealer stays on all 17's. This game is available at MGM Grand, Aria, Bellagio, and Mirage. MGM Grand and Mirage spread this game for $25 during the day. It may go up to $50 at night and even higher on weekends. Aria and Bellagio games start at $50 and may go up to $100 on weekends. Treasure Island offers this game with a $50 minimum.
Caesars Entertainment offers this game without the resplit aces rule. At Bally's, the game starts at $25 during the week and $50 on weekends. All other Caesars Entertainment properties require a $100 minimum bet for these rules.
Best Las Vegas Strip Overall Blackjack Conditions
There are three casinos on the Las Vegas Strip that do not have any 6-5 blackjack games. Aria, Bellagio, and Excalibur deserve recognition for not spreading any of these short-pay games. Aria and Bellagio are among the best places to play blackjack in Las Vegas. Honorable mention goes out to Treasure Island, Wynn and Encore for not spreading any shoe games that pay 6-5 on a natural.
Best Downtown Las Vegas Blackjack
El Cortez takes the title for the best downtown Las Vegas blackjack with its 3-2 single deck game. Honorable mention goes out to Plaza, Las Vegas Club, Golden Gate and The D for not offering 6-5 blackjack in any form.
Have you found a good game in Vegas that we have not mentioned? If so leave a comment and help out your fellow man.

Related News
Next Article: Worst blackjack in Las Vegas, 2017
Previous article: Pro Tennis Player Loses $557,000 Playing Blackjack