Worst blackjack in Las Vegas, 2017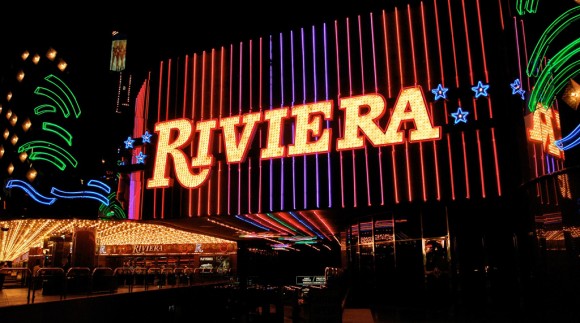 Every casino on the Las Vegas Strip offers blackjack and the rules are different from one casino to another. Many casinos will have different rules at neighboring tables, even when using the same number of decks. Our man in Vegas, John Mehaffey, has compiled this list of the worst blackjack games in Las Vegas. Some of these games are just a few steps away from some of the best blackjack games in the casino. That is why it is so important to check the rules at a table before playing.
Beginner's tip: if the felt or placard discloses that blackjack pays 6-5 (instead of the usual 3-2), it is time to look for a new table.
Worst Las Vegas Blackjack Award
The worst Las Vegas blackjack award goes to Riviera. It is located on the north end of the Las Vegas Strip across from Circus Circus. Riviera advertises a $1 blackjack game and it spreads several of these tables every day. This game has the same rules as the popular $1 blackjack at Sahara before it closed in 2011.
Players that wager $4 or less are only paid even money on a blackjack. Bettors that wager $5 or more are paid 6-5 on a blackjack. The rules allow doubling down on anything and after the split. Players may not re-split or surrender. The dealer hits a soft 17. The house edge for players wagering less than $5 is 2.91%. That is the worst live blackjack game on a percentage basis in Las Vegas, if not the entire country. Players wagering $5 or more are still giving up a 2% edge to the house. Just about the only positive thing I can think of about this game is the quick drink service Riviera offers.
Alternatives: There are several $5 and $10 blackjack tables at Riviera that pay 3-2 on a blackjack that otherwise have the same rules as the $1 tables. Players looking for a blackjack variation will find Double Exposure Blackjack, called Bottoms Up, on the far end of the pit. The dealer's hole cards are both exposed. Players can double down on 9-11 and after the split. All pushes lose except for blackjack. All blackjacks pay even money. It is only open during busy periods.
Worst Low Limit Las Vegas Blackjack Game
The worst blackjack game for lower limit players may be found at Caesars Palace. It is a single deck game that pays 6-5 on a blackjack. While that rule is common for Las Vegas Strip single deck games, there is one devastating rule that makes Caesars Palace stand apart from the rest. Players may only double down on 10 or 11. This is the only blackjack game available in the Pussycat Dolls party pit. It is also spread in three other Caesars Palace pits. The house edge on this game is 1.97%.
Alternatives: Caesars Palace offers $10 3-2 shoe games during the day and on weeknights. Limits may go up to $15 or $25 on weekends. Go across the street to Harrah's and find the $10 or $15 3-2 games in the pit behind the craps tables if you need lower limits.
Worst Las Vegas Double Deck Blackjack Game
Cosmopolitan spreads the worst double deck blackjack game in Las Vegas. It is the only casino we surveyed that pays 6-5 on double deck games. This is the case even at $25 tables. Being allowed to double anything and after the split makes this game slightly better than the Caesars Palace single decks. The house edge at the Cosmopolitan 6-5 double deck games is 1.83%.
Alternatives: Most of the Cosmopolitan blackjack games outside of the high limit salon are 6-5 tables. There are some 3-2 tables in the pit towards the front desk. Otherwise, Aria and Bellagio are a short walk where there are no 6-5 tables in the entire house.
Worst Las Vegas High Limit Blackjack
The Golden Nugget spreads the worst high limit blackjack in Las Vegas. Unlike other high limit salons that stay on all 17's, Golden Nugget's high limit games hit a soft 17. This includes the shoe games. The double deck allows double down after splitting, which is not allowed on the main casino floor's pitch game. The Golden Nugget shoe games have exactly the same rules as the $5 tables.
Alternatives: Do not stay downtown if you want to play high limit blackjack. There are no blackjack tables on Fremont Street that stay on all 17's. High rollers should stay on the Strip.
Honorable Mention for the Las Vegas Hall of Shame
Several Las Vegas casinos have a reputation for spreading terrible blackjack at low limits. Casino Royale is known for its 20x craps odds, the best on the Strip, but its blackjack games are awful. It spreads 6-5 single deck, 6-5 Free Bet Blackjack and Blackjack Switch.
Mirage used to be the place to play blackjack. In 2013, it made all blackjack games under $25 6-5 games. This rule change included all shoes. Many of these 6-5 shoe games are dealt out of continuous shuffle machines. Players that can afford $25 limits will find shoe games that stay on all 17's. The $50 double deck also stays on all 17's.
The latest casino to change the blackjack rules for the worse is Venetian. All shoe games outside the high limit salon pay 6-5 on blackjack. This includes $25 tables. Players must play the $50 double deck games to get a 3-2 payout on a natural. These bad rules also affect Palazzo. Players can walk over to Wynn or Treasure Island to find $10 3-2 blackjack games with good rules.
Now that you know where not to play, you can acquaint yourself the best games available in Las Vegas by reading John's survey of the best blackjack games in Las Vegas for 2017.

Related News
Next Article: Bodog Releases New Live Dealer Game "Zone Blackjack"
Previous article: Best Blackjack in Las Vegas, 2017