BetOnline Live Blackjack Accused of Cheating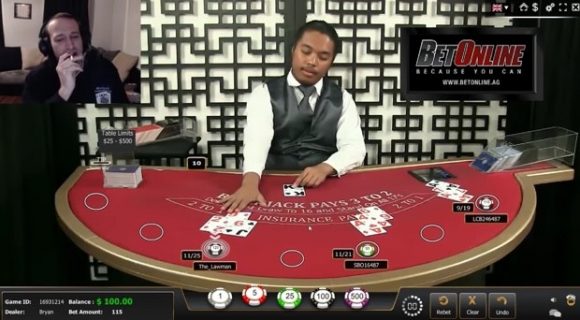 Last week a punter playing live dealer blackjack at BetOnline caught on video what he believes to be a cheat by the game's dealer, which was played out by Global Gaming Labs.
The hand in question was recorded and published to blackjack player Michael Morgenstern's YouTube channel (who didn't play the hand but did obtain the video). The player in the video had an 11 going against the dealer's King, and he opted to double down. The dealer then goes to deal the card from the shoe, but he instead lifts the top card with his thumb and pulls the second card, giving the player a 17. The dealer then proceeds to pull the card that was supposed to go to the player and puts it next to his King. The card was an 8, causing the punter recording to lose the hand, rather than giving him the win as it should have been.
The video has since been uploaded to YouTube, where it has more than 860,000 views. General consensus among those in the industry is that the move by the dealer was certainly an error, if not purposely cheating. To their credit, BetOnline apologized for the actions, and wrote:
[Subject: BlackJack Cheating

Good day,

Thank you for contacting Customer Support.

Trust this email finds you well.

We would like to profusely apologize on behalf of all parties involved as this was a simple human error. The player would have clearly won the hand in question if the cards were dealt without error.

We have escalated this matter to have the video reviewed as we are unable to do that over here at the CS department and with the review we have seen that there was indeed an error. The player who suffered this loss has been fully reimbursed and further procedures have been put in place to ensure this will not happen again.

We are sincerely sorry that this had happened and apologize for the inconvenience but rest assured the player affected has been reimbursed accordingly and this will not happen again in future.

Thank you for your understanding.

Good luck and enjoy!

If you have any other questions or require further assistance, please do not hesitate to contact us.

Best Regards,

Bree
Player Services Department

BetOnline]
Many will claim the video goes to prove that live dealer studios in Latin America simply aren't up to snuff compared to those in Europe or other regulated jurisdictions.
Online Blackjack will update this story as we learn more about the matter.

Related News
Next Article: Stanford Wong's BJ21.com Re-Launches
Previous article: MIT Blackjack Player Explains Falcons' Super Bowl Loss