Blackjack X-Change Analysis Posted Online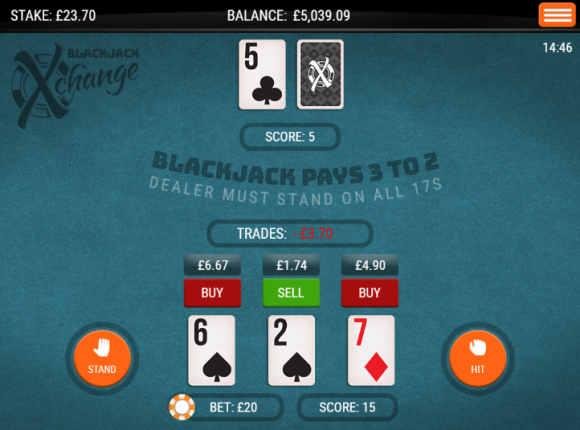 A new online blackjack game is set to begin being offered online with Blackjack X-Change, and casino game analyst Michael Shackleford has taken a comprehensive look at the game, giving players the scoop on the strategy needed to lower the house edge.
The analysis is posted on the Wizard of Odds website, and sees Mike breaking down the game. Blackjack X-Change is a variant style game that sees players either putting in extra to get a better card, or getting paid money to give up one of their good cards. This makes the game a lot like the Blackjack Switch.
According to Mike, the house edge for the game is 0.37%, and the game is dealt with infinite decks. Some of the game's rules include:
– Dealer stands on soft 17
– Blackjack pays 3:2
– Dealer peeks
– Players can double any two cards
– Doubles after splits allowed
– Player can split once
– Player can hit and double after splitting Aces
– Player can exchange any card in his hand.
– Play may not double or split after exchanging card
– Players paid 3:2 for blackjack after exchanging card
The game will underpay players for their good card by roughly 2.5%, and will overcharge to get rid of bad cards by the same percentage. This makes exchanging a bad proposition, and it's advised that players avoid exchanging in order to maintain the best odds.
Blackjack X-Change is available for play at Caesars online casino.

Related News
Next Article: Evolution Launches 'Infinite Blackjack' Game
Previous article: ASA Shoots Down 21.co.uk Blackjack Ad Complaint