Ryan Reynolds Faces Off With Jimmy Fallon in "Slapjack"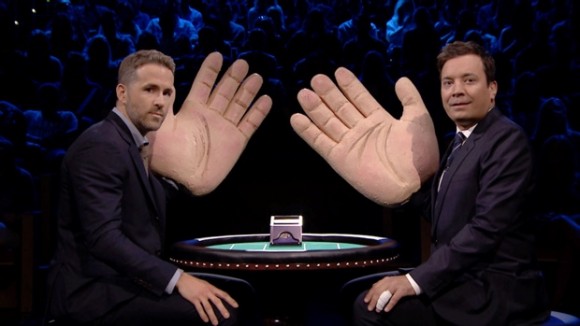 Movie star Ryan Reynolds appeared this week on The Tonight Show with Jimmy Fallon to promote his upcoming film Mississippi Grind and played "Slapjack" with the show's host, which is a variant of the popular card game blackjack.
Slapjack plays exactly like traditional blackjack, but the winner of the game gets to slap the loser in the face with a giant foam hand. The game saw Reynolds and Fallon alternating between being the dealer, and the tie ended up going against the player. Reynolds lost the first hand before coming back with a victory, eventually losing the tie-breaking hand.
Reynolds is starring in Mississippi Grind, a film that sees a young gambler (Reynolds) teaming up with an older punter (Ben Mendelsohn) to go on a playing streak looking to win big.
Those interested in viewing the skit can do so below:
Related News
Next Article: LeoVegas Launches Bond Blackjack Competition
Previous article: Jeffrey Ma to Address Industry Experts on Blackjack